I
t's been about a half a year since the last time I updated this blog. Found myself with projects and procrastination towards those projects [this blog being one of them].
Catching you up to date with what has been going on in my life recently is that I'm now a sophomore at Ringling in Game Art and Design. Thing haven't changed much, have they? Still, it's exciting for me. I won't go into very much more detail but I'll show you some art and talk about my projects I've recently been working on.
I
n Game Design I class we've started a game mod of a board game of our choosing. I chose a new game called "
Small World
". A board game in which you take control of a fantasy themed race and fight over land against an opponent, gaining victory points in the process.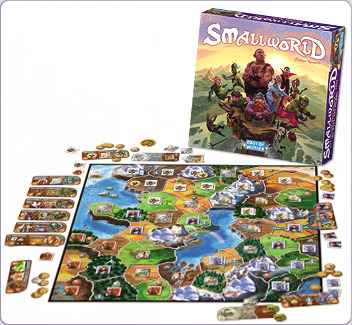 During the first half of the semester we were to make illustrations showing off various game play aspects. Here are a few of the finished illustrations and sketches.
The rough of my pitch document and some photos of my mod to this game will be up in a day or two.
M
y Computer Animation I class is having us do modeling projects for this semester. One of our first project was to create an accurate model of the Linux Penguin in Maya. Here is my turn around video of the model. I think you'll find it interesting to say the least.
More updates later when I get some sleep and more work done...